Please help us deliver a Fresco Sgraffito class for boys at St. Innocent Orphanage
Boys will learn a unique craftsman skill of creating decorative sgraffito panels working with designs based on Orthodox Iconography. They will study plaster preparation and application as well as understanding of color and its use in plaster. This is a perfect extension to the traditional Lime Wash techniques they have been exposed to during Summer 2017 HomeBuilding Season at Project Mexico (www.ProjectMexico.org).
Date: With you help we hope to be able to have the class on St. Innocent feast day or before Christmass.
Cost of the class: $2900
Instructors: iLia Anossov
  
Please SUPPORT or share this project on Social Media, Online, email for others to help – It is easy!

How to share SICA CrowdAid Fundraising Project on social media or blog – opens new window
---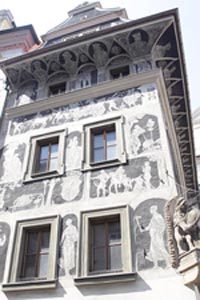 Sgraffito (Italian: [zɡrafˈfiːto]; plural: sgraffiti; sometimes spelled scraffito) is an art technique, practiced by applying layers of plaster tinted in contrasting colors and then scratching so as to reveal parts of the underlying layer(s).
Sgraffito on walls has been used in Europe since classical times, it was popularized in Italy in the 15th and 16th centuries and later in Austria, Germany and Eastern Europe, specifically Poland and Czech. Also sgraffito can be found in African art. In combination with ornamental decoration these techniques formed an alternative to the prevailing painting of walls. The technical procedures are similar to the painting of frescoes.
BSC2017-OpenAmount

$10.00

BSC2017-OpenAmount

$50.00

BSC2017-OpenAmount

$30.00

BSC2017-OpenAmount

$25.00

BSC2017-OpenAmount

$10.00